"Write about what you know," states a creative maxim.
For most writers, that means our life experiences, which might range from educational studies, research, relationships, memoir, or worlds of imaginative fantasy. I write about people.
My first book, Cobble Creek, is a collection of short stories and poetry based on life experiences. Some persons, such as my mom and dad, are clearly identified. Others are fictionalized. Either way, the stories are real. Read more …
My second book, Peace, Justice, Care of Earth, is a biography about John McConnell, creator of the Earth Flag and founder of the original Earth Day on the vernal equinox. Born in 1915, John was a visionary far ahead of his time. He espoused that peace, social justice, and Earth care are inextricably linked. His life was rich with human interaction. Read more …
My third book, Brain Tumor, is a medical memoir about a foreign substance that grew in my cranium for twenty years until making its presence known through a series of blackout seizures. During those seizures, I functioned but have no recollection of my words or actions … other than what people told me later. I wrote extensively about daily events and human interactions. Brain Tumor, a "true novel," is the creative synthesis of that journal, a literary picture of a significant life-altering, medical experience from the patient's unique perspective. Read more …
Dad, a journal of caring and questioning is a personal memoir of family relationships during challenging times as well as a universal saga of our journey on the bell curve of life. It's the story of an aging parent who gradually requires more and more care from his adult son. The child chooses to parent the parent, doing more and more for the elder, returning the favor, if you will, from decades earlier when the child was young and needed the parent's care. Dad asks adult children to ask: "What can I—should I—now do for my parents?" The answers can be demanding, but Dad offers valuable insight and inspiration. Read more …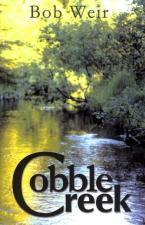 Cobble Creek short stories and poetry based on the human adventure
I cried when I opened the first printed copy of
Cobble Creek
. In my hand, I held stories that had existed for years as thoughts, typed sheets, or computer files. With publication, they had emerged into the realm of readership.
One story is about John, a friend and fantastic artist, who died much too young. For him, I cried. With joy that I was still alive and able to write, I cried.
---
Brain Tumor: Life • Love • Lessons "Good is coming from this!"
Brain Tumor is a medical memoir. Its McGuffin is a foreign entity that once grew within my cranium. But the story line is about the challenges of life and eventual mortality, about post-surgical depression and determination, about the will to return to happiness and productivity.
Peace, Justice, Care of Earth: The Vision of John McConnell, Founder of Earth Day
Peace, Justice, Care of Earth is a biography of a visionary who, well ahead of his time, experimented with biomass during The Depression, advocated for cooperative space exploration between the U.S. and Russia during The Cold War, and long ago verbalized the quintessential link between ecology, social justice, and peace to which human society is gradually awakening now.
---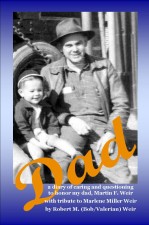 Dad, a diary of caring and questioning
Life flows like a bell curve. We are born dependent and, if we live long enough, will return to dependency.
When my dad, Martin, was in his 80s and dealing with Parkinson's, I chose to be with him. The decision to return home wasn't easy, and I hesitated. But circumstances prevailed, and we were together during his last five years.
The challenges and rewards represented in Dad are both personal and universal. The question is this: Our parents cared for us when we were unable infants. Shall we not do the same for them in their senior years?