Readers want to know
who
did
what where when why
and
how.
These are the Five Ws plus H.
Or, to state it another way, readers want to know which person performed a particular action in a certain location at a specific time for what reason using what method.
Examples:
The pilot of the single engine airplane (who) flew over (did what) the soccer field (where).

The pilot of the single engine airplane (who) flew over (did what) the school's soccer field (where) at a low altitude (how) during the early Saturday morning match (when), pulling a "Happy Birthday" banner for her daughter (why).
The first example is incomplete, while the second relates all that readers want to know.
In any given story, you, as the author, might know or mentally visualize the low altitude, the morning sun close to the horizon, and the banner with its particular colors and bright, bold letters floating behind the silver-toned airplane, but knowing in your head isn't enough; you must put the full description into the story so your readers know all they need to know to see the scene too.
This is true whether you're writing a novel, a self-improvement book, a corporate report, a journalism column, or even gossip.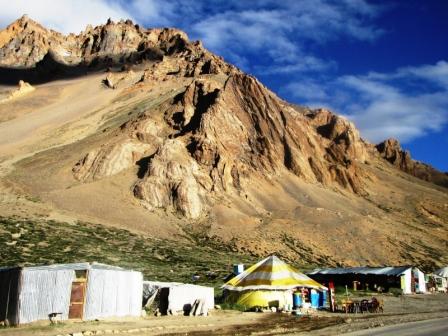 These
dhabas
sit as remote outposts along the infamous Leh-Manali Highway in the Indian Himalayas. Here, travelers can find meals, snacks, water, beverages, and lodging–all in one room on joined mattresses.
Photo by Robert M Weir, August 2011, on the Leh-Manali Highway, Himalayan Mountains, India.