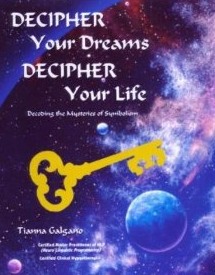 Tianna Galgano's numerous years of research on dreams and intuition
led to discoveries never before published in a book. She has rekindled "ancient" intuitive methods of decoding the mysteries of symbolism.
The DECIPHER process opens the door to intuition, which in turn makes the interpretation of dreams easy.
DECIPHER techniques can also help you find the hidden causes of pain, illness and emotional distress; discover the deeper meaning of accidents and negative situations; understand why parts in the subconscious sabotage you, and more!
Decipher Your Dreams,
Decipher Your Life:
Decoding the Mysteries of Symbolism
By Tianna Galgano
Published by Dream On Creations Publishing
Buy Decipher Your Dreams, Decipher Your Life from …
Dream On Creations Publishing
Tianna Galgano
Visit Tianna Galgano's web site
Tianna Galgano is a dream expert and creator of the "Dream Decipher Interpretation Process." She is a Certified Clinical Hypnotherapist, Certified Master Practitioner of Neuro-Linguistic Programming (NLP), Certified NLP Health Practitioner, Shamanic Practitioner, and an EFT-Meridian Tapping Specialist. Tianna has been doing transformational healing work since 1985.